Research Design
The research project is organized into the following 4 unified issues:

Elucidating the mechanisms and causes of conflicts.
Identification of the basic African Potentials.
Elucidating the Interface Functions between exogenous influences and the African Potentials.
Investigation of the external international solution methods and the theoretical research into integrating that with the research on the African Potentials.
Our research project, to elucidate the above four areas of study, will mobilize front-line researchers from numerous disciplines who have conducted long-term field research in Africa. To comprehensively and systematically advance the research, the project will place a Plenary Committee at the core, with 4 Research Units based on research topics, which will intercross with 4 area-based Research Clusters. To promote international debate, the annual African Conflict and Coexistence Forum will be held in various African regions. In addition, we will compile the African Potentials and Conflict-Coexistence Data Archive to be made public.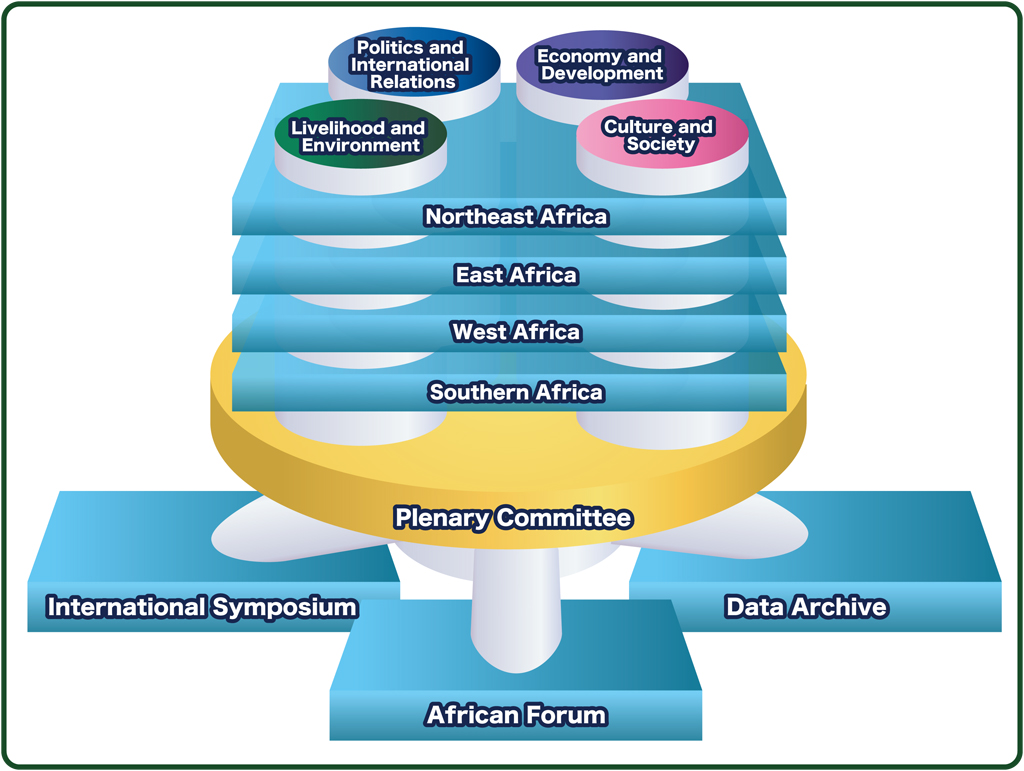 Research Structure
In this project, specialists of different academic and geographic areas will come together to promote comprehensive and interdisciplinary area studies pertaining to "conflict and coexistence." All the members will participate in the plenary committee sessions to share information and research results on African conflicts and coexistence. This will in turn stimulate the exchange of ideas to flow freely, and further propel the project.
Research Units Based on Research Topics
In this project, we organize 4 "Research Units" to promote studies on conflict and coexistence based on research topics: the Politics and International Relations Unit, the Economy and Development Unit, the Livelihood and Environment Unit, and the Culture and Society Unit. The members of each unit will participate in the plenary committee sessions to report on and share the progress of research, and encourage new studies that will combine and intersect the merits of the ongoing research.
Research Clusters Based on Geographical Localities
The standpoint of each geographical locality itself is of utmost pertinence in the studies of conflict and coexistence. In this project, we organize 4 "Research Clusters," to extract and examine issues that are unique to each geographic region: the Northeast Africa Cluster, the East Africa Cluster, the West Africa Cluster, and the Southern Africa Cluster. These Clusters will coordinate their investigations with the above 4 Research Units to report and share their findings at the plenary committee sessions.
In this project, we work in coordination with overseas researchers, including those of African academic institutions as well as NPOs. We will annually hold the "African Forums on Conflict and Coexistence," in different localities in Africa. We will also hold international symposia in the third and fifth year of the project.
We will hold workshops open to the public to disseminate the research results, and to further the studies through active exchanges of information and opinions among the public and the researchers. We will also organize open symposia and academic lectures to mutually benefit the general public with the specialists and scholars from the findings and discussions.