AFRICAN FORUM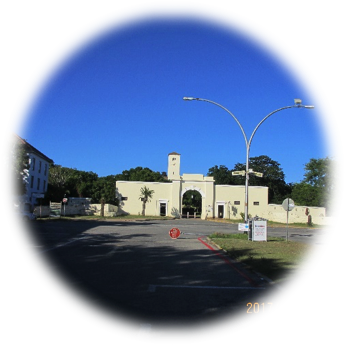 7th African Forum: Grahams town
Dates: November 24–26, 2017
Venue: Rhodes University, Grahamstown, South Africa
Summary of African Forum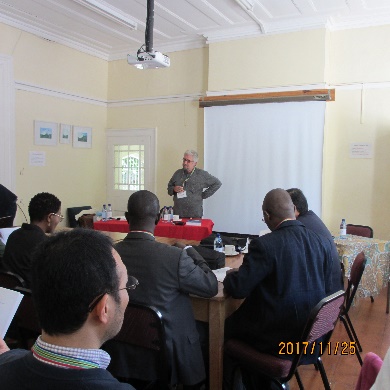 The 7th African Potentials Forum was held from November 24 to 26, 2017, in Grahamstown, South Africa. Project members, researchers, and practitioners from southern African countries, such as Angola, Botswana, and Mozambique, participated in the forum. The event also included a new component: a poster session for young researchers, which was incorporated to encourage a focus on academics in the next generation. Postgraduate students from Rhodes University, Cape Town University, and University of Lesotho took part in the forum. The more than 40 participants held intense discussions on African potentials during the two-day event.
This forum had two key characteristics. The first was its attempt to seek another mode of intelligence in humanities based on African potentials, which is one of the objectives of the second phase of the project. The discussion as such was centered around the idea of multiple universality proposed by Dr. Michael Neocosmos in his keynote speech. Universality has long been a concept exclusive to modern, Western societies up until now (as target of criticism or defense, but he discussed the possibility to find different ways to understand universality in politics, history, and views of humanity and society. The second characteristic of the forum was that more than a half of the presenters were female, and the event encouraged active discussion on sexual violence, sex governance, as well as gender and sexuality which were newly added to the project theme from the seceiond phase.
The forum offered a poster session and four sessions titled "Liberation," "Knowledge," "Governmentality," and "Everyday Wisdom." The event opened with Dr. Michael Neocosmos's keynote address, "African Potentials and the Thought of Universal Humanity." After the keynote, 14 presenters (seven from Africa and seven from Japan) made reports in breakout sessions, and core members of the project, who had been working to conceptualize African potentials since the first phase of the project, served as commentators to deepen and develop the discussions. At the poster session, seven researchers from the next generation presented on topics related to African potentials.
In the plenary discussion on the last day of the forum, we confirmed our shared understanding of the importance of the conception and practices of African potentials in a situation where many modes of intelligence represent colonial thinking. We must critique and identify issues in such outdated thinking and adopt countermeasures. At the same time, we confirmed the need to construct a new order of intelligence by mutually collaborating in and engaging with modern Western concepts and practices—rather than merely rejecting or criticizing them—to address social contradictions and the global trend toward violence in our world today. In addition, because of the participation of many young researchers, this forum promoted an open exchange of opinions on emerging generational gaps in recognition and behavior.
We have concluded that each party involved would consider publishing the outcome of the forum either in featured journal articles as a part of the African Potentials series in English.
(Motoji Matsuda, Project Leader)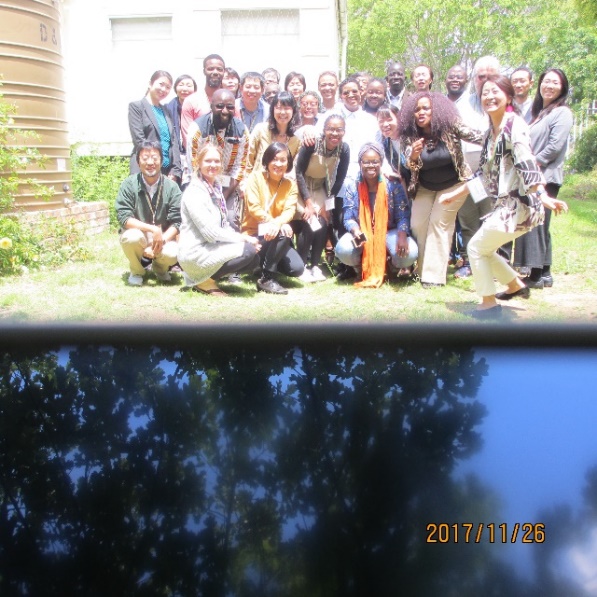 PROGRAM
Program Timetable
November 24, Friday
18:00-19:00 Registration

19:00-21:00 Reception
November 25, Saturday
9:40-10:00 Opening remarks

Motoji Matsuda (Project leader, Kyoto University)

10:00-11:30 Keynote Address (Chair: Eisei Kurimoto)

Michael Neocosmos (Rhodes University)
African Potentials and the Thought of Universal Humanity

11:30-13:00 Lunch Break

13:00-15:30 Session 1: Liberation (Chair: Yohei Miyauchi)
Commentators: Edward Kirumira & Yoko Nagahara

1-1. Shose Kessi (University of Cape Town)
African Identities and Community Participation in the Time of 'Nation'
1-2. Toshihiro Abe (Otani University)
Reconsidering South African TRC in the Current Context of Transitional Justice Studies
1-3. Nomboniso Gasa (University of Cape Town)
The Traditional Debate in South Africa: What Is the Fuss All About?
1-4. Akiyo Aminaka (IDE-JETRO)
Signs of Spontaneous Democratization in Mozambique: Special Focus on the Opposition Party and Its Ex-Soldiers

15:30-15:50 Coffee Break

15:50-17:50 Session 2: Knowledge (Chair: Shose Kessi)
Commentators: Michael Neocosmos & Motoji Matsuda

2-1. Artwell Nhemachena (University of Namibia)
Evading Genetic Modifications through African Potentials? Whither the Afro-pessimism Thesis
2-2. Akira Takada (Kyoto University)
The Medium of Instruction in North-Central Namibia in Colonial Times
2-3. Sethunya Tshepho Mosime (University of Botswana)
Teaching African Potentials: Incompleteness and the Pedagogy of African Potentials

18:30- Conference dinnerk
November 26, Sunday
9:00-11:00 Session 3: Governmentality (Chair: Nomboniso Gasa)
Commentators: Kennedy Mkutu & Eisei Kurimoto

3-1. Richard Pithouse (Wits University)
Can the Subaltern Be Heard? Reflections on the Academy, the Universal and Thought from the Underside of Modernity
3-2. Yohei Miyauchi (Rikkyo University)
Tolerance as Post-Apartheid Urban Planning Political Geography of the Art-Led Urban Rejuvenation in Inner City of Johannesburg
3-3. Euclides Gonçalves (Kaleidoscopio)
Champion's Music and the Poetics of Constructive Criticism in Rural Mozambique

11:00-11:15 Coffee Break

11:15-12:15 Poster Session

P-1. Levi Kabwato (Rhodes University)
Catching Colds: Analysing Media Discourses in Africa on Euro-American Political Developments
P-2. Motlatsi Khosi (University of South Africa)
"Living" Ubuntu: The African as Philosophy in Its Construction of an African Philosophy
P-3. Yvonne Zamaswazi Sibaya (University of Cape Town)
Downsizing and Outsourcing African Identities.
An Ethnography of the Downsizing and Outsourcing of African Identities through Transactional Hair Exchanges amongst Insiders and Outsiders of Johannesburg
P-4. Sayaka Kono (National University of Lesotho)
Making "Basotho of South Africa" under Bantustan Policy: Ethnicity, Citizenship and Apartheid in Rural South Africa in the Late 1970s:
P-5. Meyu Yamamoto (Tsuda University)
Beyond Binary Paradigm of Racism: Chinese Mine Labour and Construction of Whiteness in South Africa
P-6. Yuriko Sugiyama (University of Botswana)
Reorganization of San Society in New Xade, Botswana: Analysis of Changes in Funeral Customs
P-7. Chivimbiso Gava (University of Cape Town)
Migration and Narration – Making the Unfamiliar Familiar through a Shared History

12:15-13:30 Lunch Break

13:30-15:30 Session 4: Everyday Wisdom (Chair: Akira Takada)
Commentators: Edward Kirumira & Toshio Meguro

4-1. Mayu Hayakawa (National Museum of Ethnology)
The Potential of the Useless Money: The Non-Disappearance of Hyperinflating Currency in Zimbabwe
4-2. Fezokuhle Mthonti (Rhodes University)
The Hair Salons Are Not Burning: African Migrant Women and Xenophobic Violence in South Africa
4-3. Junko Maruyama (Tsuda University)
Divided Land, Shared Land: Recent Land Issues among the San Hunter-Gatherers in Central Kalahari

15:30-15:45 Coffee Break

15:45-17:30 General Discussion (Chair: Eisei Kurimoto)

18:00- Farewell Party